CARDONALD BOWLING CLUB NEWS
2016
October 11th 2016
Congratulations to Liz Farquhar who was announced as Anne McKechnie's VP elect at tonight's presentation of ladies prizes.
Apologies and belated congratulations also to Bobby Smith who is the gent's VP elect.
Best wishes to you both.
October 4th 2016
Further to the money raised and donated by the juniors at the Bill McIntosh tournament, the sum of £60.00 ( to be confirmed ) has been donated to 'Motor Neuron Disease' research.
Very well done to the juniors and everyone associated.
September 25th 2016
Jim Cullen from Ralston Bowling Club has kindly informed me that photos of the Govan League Champion of Champions are now on their website. CLICK HERE to connect.
Congratulations to our winning 'Fours Team' of Alan McKechnie, Alex Little, John Hill and Ross Warrender.
Well done guys.
September 14th 2016
Please note that the 'MacMillan Fun Day' on October 1st has been cancelled due to lack of numbers.
There will still be a social evening with entertainment.
September 11th 2016
Many thanks to everyone who took part in the 'Bill McIntosh' tournament today and congratulations to the winning team of
Billy Barr (Yarrow's), Peter Yeates, Gael Grindlay (Crookston) and Samantha Smith (Pollokshaws).
Commiserations to the runners up who were Craig Milne, David Hope (Hillington), Graeme Hewitt (Hillington) and
Liam McShane (Crookston)
A huge vote of thanks to Pauline Richmond and everyone in her team for the huge amount of work involved in organising the event and providing the catering.
Footnote: The sum of £66.00 was raised for charity which will be rounded up to £120.00 by the juniors who will select two charities in due course. Many thanks.( P. Richmond )
September 4th 2016
'Junior Singles Final'
Congratulations go to Mark Richmond who won against Adam Carlton.
This is Mark's second Championship win and he still has a chance to equal Adam's record of three in a row, which has also been achieved by Kyle Young ( 2002-2004 ), next year.
Commiserations and good luck to Adam who now moves up to become an ordinary member.
I am sure he will be a great asset and representative for the club in the future.
September 3rd 2016
'Nominated Pairs' final today and congratulations go to the winning team of Alex Little and Jim Craig who were playing
Grant Middleton and David Elliot.
While Alex and Jim had a fairly commanding lead, the match was unfortunately stopped with a few ends still to go.
This was a result of a knee problem affecting David Elliot.
September 2nd 2016
Congratulations to Allan Brittain who is our new 'Club Champion' for 2016 and many commiserations to the gallant runner up Tam Young.
This was Allan's first championship victory since 1994 but his 5th title overall and he is closing in on Grant Middleton's record of 6.
Congratulations again to both players on a keenly contested final which went to the wire.
August 28th 2016
Congratulations to the winners of the 'Little's Sponsored Triples' which was played today.
Christine Woolley, Frank O'Neill(2) and Kenny Brooks won the final in the twilight hours against Jo Hayden, Michael Devine and
Fred Farquhar.
Well done to everyone and many thanks for the continued sponsorship from 'Little's.
August 27th 2016
Gent's 'Finals Day' today but unfortunately the 'Championship' could not be played.
However the 'President's', 'Vice-President's' and Rinks were played with the honours going to Robert Smith who won the 'President's' against Grant Middleton.
Young Adam Carlton won the 'Vice-President's' against Sam Young and the 'Rink's' team of Stuart Allen, Bob Cooper, Harry MacGregor and Alex Little won against Hugh Madden, John Lonie, John Madden and Alex Hunter.
Congratulations to all the winners and commiserations to the runners up.
August 25th 2016
Many congratulations to all our 'Glasgow Bowling League' players who clinched the 'Third Division' championship this week.
CLICK HERE for the final placings.
Well done guys.
August 24th 2016
A glorious sunny day for 'Ladies Finals Day' and congratulations to all the winners and sincere commiserations to the runners up.
Special mention to Nan Davies who has now won the Ladies Championship a phenomenal 10 times if my counting is correct!
Results were as follows:
Championship – Nan Davies beat Dorothy Young
President's – Gladys Brittain beat Margaret Kelly
Vice- President's – Ann Thomson beat Anne McKechnie
July 30th 2016
'Willie Milne Day' and despite a lot of gents being away at the Rothesay friendly we still had a good turnout.
Congratulations to the winning team of Billy Whyte, Willie Hayden, Grant Middleton and David Elliot.
Commiserations to the runners up who were Chris Leatham, Barry Cook, John Mailer and Iain Cook.
Well done also to Margaret Kelly who competed in the National Championship 'Ladies Singles' at Northfield yesterday.
Having won her first two games against Ladybank and Denny she was unfortunately beaten in the quarter-final against the eventual overall winner Donna Fleming from Busby.
June 12th 2016
Pollokshaws BC hosted the 'Bowls Scotland District Finals' today and we had several teams involved.
Gents Triples – Grant Middleton, Ross Warrender and David Elliot.
Ladies 4's – Mary Crawford, Sadie Fitzpatrick, Gladys Brittain and Jo Hayden.
Ladies Senior 4's – Jean Etherington, Margaret Kelly, Ellen McGregor and Dorothy Young.
Ladies Singles – Margaret Kelly.
Well done to everyone who took part and congratulations go to Margaret Kelly who will be going to the National Finals
( Ladies Singles ) in Ayr later in the year.
June 4th 2016
Another gloriously sunny day for the 'Gents Triples' which meant a lot of water was consummed to keep hydrated !!!
Congratulations to this year's winners Willie Kettlewell, Kenny Brooks and Malky McGeachy and commiserations to the runners up, John Brady, Mark Chambers and Peter Yeates.
May 14th 2016
A fine sunny day for the 'Mixed Triples' and congratulations go to the winners Catherine Brooks, Frank O'Neill (2) and Kenny Brooks and commiserations to the runners up, Lorraine Coyle, Duncan McCloy and John Hill.
May 7th 2016
A very belated congratulations to the winners of the 'Mixed Jubilee' game today who were Dorothy Collins, John Dornan, Anne Miller and Ian McLeod.
Commiserations to the runners up, Liz Farquhar, Margaret Kelly,Robert Bremner and Kenny Brooks.
April 10th 2016
EXTERNAL REFURBISHMENTS
The pathways surrounding the club which have been deteriorating over the years have recently been upgraded to a high standard and additional lighting for the car park has also been installed.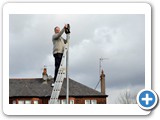 lightbox for native galleriesby VisualLightBox.com v6.1
April 9th 2016
JUNIOR OPEN DAY
Congratulations to Pauline Richmond and all her team for hosting a brilliant 'Open Day' to try and attract more youngsters into the bowling fraternity.
President Joe and Vice President Michael were among the many who gave their time  and expertise!! to coach the newcomers. Let's hope we can attract many more.
Many thanks to everyone involved.
CLICK HERE
for some pictures of the day.
March 29th 2016
OPENING DAYS
The greens will be open for the season on Saturday 2nd April at 2-30pm.
There will be a fours game for male members and friends and a collection will be taken for charity.
A social evening will be held in the clubhouse, commencing at 7-30pm.
Subscriptions may be paid to the Treasurer, Mr Robert Cooper, ( or a nominated committee member ) on the evenings of:
Tuesday 29th March between 8-30pm and 9-30pm, Wednesday to Friday 30th March to 1st April 2016 between the hours of 8pm and 9-30pm.
Envelopes are available behind the bar ( outwith these times ) to leave subscriptions.
Cheques ONLY will be accepted on opening day.
Annual subscriptions must be paid no later than 30th April.
PLEASE NOTE
It is a condition of membership of Cardonald Bowling Club that you take part in the bowling activities of the club.
This was highlighted at your interview prior to joining the club.
The Council would like to remind you of this commitment and ask that you endeavour to meet it.
The sheets for entering the competitions are currently displayed on the boards.
LADIES OPENING DAY
Ladies section will open on Monday 4th April 2015 at 2-15pm.
A hearty invitation is extended to all lady members.
President Joseph Connor and the Directors of Cardonald Bowling Club would like to wish all members a successful and enjoyable bowling season.